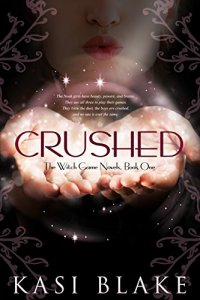 The Craft meets Pretty Little Liars in this addictive tale of teen witches using their magic to play games at school. Winning has never been so dangerous..The Noah girls have beauty, powers, and brains.
They use all three to play their games.
They blow the dust,
the boys are crushed,
and no one is ever the same.
Each year the Noah girls play a secret game– Crushed. The rules are simple.
1. Use wisdom to pick your target. The boy can't be too weak or too strong-willed.
2. Blow the enchanted dust into your target's face to enchant (Crush) him.
3. Give verbal commands and assign them tasks to perform throughout the year. The more tasks completed, the stronger the witch's power grows.
4. At the end of the year, the witch with the most power wins cold, hard cash.
As if being a witch in high school isn't complicated enough, Kristen picks the wrong boy to Crush. Zach is tall, handsome, and a little scary. Her Crush spell isn't working on him like it has with the others. In fact, he is behaving the opposite of every other boy she's Crushed, hating her instead of adoring her. Something is definitely wrong. After someone attempts to kill her, Kristen realizes there is more at risk than a few hundred dollars. She may be betting with her life. **This book has been rated using the Clean Teen Publishing Disclosure System. All scores are out of 5. For more details please visit the their website.
Violence – 4 (for instances of bullying, threats, and someone trying to kill main character)
Language – 5  (for the B word, damn, hell, and pissed off)
Romance / Sensuality – 2 (kissing)
Drugs / Alcohol – 3 (bullies are said to have been drinking, and there is talk of smoking)
This book is part of a series, but can be read as a stand-alone novel.