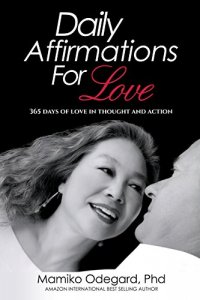 Bargain on 28th Jan 18



or borrow free on Kindle Unlimited.
No reviews yet.
Chris Widener, speaker, television host and author of The Angel Inside speaks most highly of Daily Affirmations for Love: 365 Days of Love in Thought and Action. It is, in many ways, the answer to many people's question, "How do I find love?"
"We all wonder about the choices we make in building and retaining life-long and loving relationships. The power of love comes through on every page as Dr. Mamiko Odegard combines personal experience, professional expertise and spiritual affirmations. She courageously shares the truth about love and relationships we all need to hear! Daily Affirmations for Love is authentic and rich… a rare and precious gift by a woman of great insight, clarity and wisdom."
The bigger message, however, is that when it comes to being a Relationship Mentor – the lives of people with whom the author works and who delve into the books she writes and the short reads she produce will never be the same again!
It is basic human nature for people to want success personally, professionally, financially…
However, to truly succeed in business and life, it is not enough to set goals and take daily steps toward these. In the process, it is necessary to develop and maintain lifelong quality relationships with those with whom we do business, the people who know us intimately, and the family and close friends with whom we connect throughout life that support us with encouragement and affection.
Therefore, the key message I seek to share with others is… without quality relationships, we seriously limit what can be accomplished by:
orelying too much on ourselves to approach life creatively,
ogetting massive amounts of work done to maintain productivity,
ounknowingly keep repeating past errors, and
obeing unable to really see how we are blocking our own personal and professional growth.
Each book Dr. Odegard writes, each workshop she presents, and each presentation she shares as a speaker and radio or television guest becomes an opportunity for readers and listeners to take small daily steps to view life and relationships differently and bring about positive results in life, love and career.
Her gift always is about helping people increase their "relational capital." The road to achieving that is remembering that love is a verb, and as we ACT on LOVE(TM), we demonstrate it in the daily interactions we have with others as we seek to develop and sustain the connections which are the foundation of long-term relationships.
Dr. Mamiko Odegard offers 365 entries that reflect relationships as an empowering "dance" rather than a deliberate, linear path. Mamiko does not offer us the seven effective ways to be a good lover. Instead, she notes how each day is uniquely different, but each one ultimately requires that we dance past daily distractions and get back to experiencing the discipline of love, wrapping each day in a positive affirmation that helps us experience "love as a verb!"