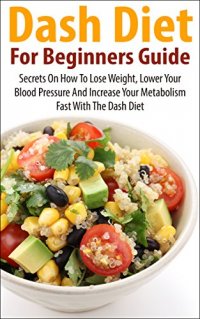 Dash Diet For Beginners Guide – Secrets On How To Lose Weight, Lower Your Blood Pressure And Increase Your Metabolism Fast With The Dash Diet
This book contains proven steps and strategies on how to lose those unwanted pounds, lower your blood pressure and have an increased metabolism by simply following the Dash diet.
Named as the best health diet in four consecutive years in a row, Dietary Approach to Stop Hypertension diet or Dash diet for short, is the recommended diet for everyone today, whether one is healthy or not. The diet plan can help prevent or control hypertension.
Dash diet is easy to follow and the success rate is high. Enjoy a healthier life today with Dash diet.
Here Is A Preview Of What You'll Learn:
Why Dieters Fail To Adhere To The Different Diet Programs?What Is Hypertension?How Does The Blood Pressure Increase?Who Are At Risk For Hypertension?What Is Dash Diet?How Can Dash Diet Helps In Lowering Your Blood PressureHow Can Dash Diet Helps You Lose WeightHow Can Dash Diet Helps In Increasing Your MetabolismAnd much, much more!
To learn more about The Dash Diet, download your copy of this book now!
Download your copy today!
Tags: Dash diet, dash diet for weight loss, increase your metabolism, dash diet for beginners, dash diet book, dash diet cookbook, blood pressure diet,