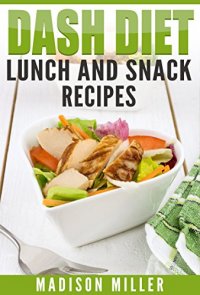 DASH diet Nutritious lunch and snack recipes that are not only healthy but are delicious!
Download FREE with Kindle Unlimited!
Lunch is probably the most overlooked meal of the day. More often than not, it?s whatever happens to be close at hand when we feel the need for a little something to get us by between breakfast and supper. This type of attitude about lunch is not only a bad health habit, it absolutely sabotages any dietary plan you might be following. The time has come to change how we think about lunch, and this book of DASH diet friendly lunches is just what you need to get started.
The DASH Diet is one of the top diets in the world. For years, this plan has been suggested to bring about a healthier way of eating and in the process, control health concerns such as hypertension, inflammation, and diabetes.
With such an incredible reputation, the DASH Diet is now one of the most effective and healthy ways of:
?Losing weight,
?Reducing body inflammation,
?Boosting metabolism,
?Increasing energy levels, and
?Fostering all around great health by nourishing the body with fresh, wholesome nutrition.
Inside find delicious recipes with simple, wholesome ingredients, easy step-by-step direction and nutritional facts:
?Wholesome soup and salad recipes such as the White Bean and Spinach Soup and the Fresh and Healthy Taco Salad.
?Easy to prepare Sandwiches and wraps like the Grilled Pear and Brie Stack or the Satay Chicken Pita.
?Delicious, easy entrées like t like Spicy Thai Noodles or the Quick Roasted Garlic White Pizza.
?In a hurry, we have plenty of Grab and Go recipes like the Mandarin Chicken Jar Salad or the Take Anywhere Whole Wheat Pasta Salad.
?Would like a lighter fare for lunch or snack time? Try the Rosemary Pumpkin Humus or the Broccoli Fritters.
With the DASH Diet, the foundation is all about good health without the need for fad diets or trendy eating plans. There is no need to count calories, carbohydrates?or anything else, for that matter! With the DASH diet, the focus is on natural, real foods. When you keep this simple principle in mind, the rest comes easy.
Read on your favorite devices such as Kindle, IPhone, IPad, Android cellular phone, tablet, laptop, or computer with Amazon's free reading Kindle App.
Scroll back up and click the BUY NOW button at the top right side of this page for an immediate download!