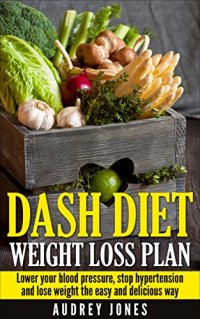 Dash Diet Weight Loss Plan: Lower Your Blood Pressure, Stop Hypertension & Lose Weight the Easy & Delicious Way
Learn how to lower your blood pressure, stop hypertension and lose weight without medication
* * * FREE Bonus book included * * *
Do you want to lose weight? Do you have high blood pressure? Are you worried about diabetes? Do you want to live a long and healthy life? Has your doctor told you to lose the weight and lower your blood pressure? Do you want to make sure that you are alive and well to watch your children and maybe even your grandchildren grow up? Well, then, this book is for you!!!!
The DASH diet was rated the #1 diet of 2015! But it isn't just a fad diet, it isn't about just dropping weight fast and then gaining it back. The Dash diet is about healthy eating in a way that lowers your blood pressure, stops hypertension and makes you lose weight in the process. The one problem is that the Dash diet looks a little complicated at first glance, but I assure you, it really isn't. It's a flexible, sensible diet that allows you to live a healthy happy life without too many restrictions. The risks of hypertension and obesity are too great to ignore, so start today … and this book will show you how!!
Here Is A Preview Of some of the recipes in this book…
Step One: What is the DASH Diet?

Why is the Dash diet #1 in the world for 2015? The Health Risks of Hypertension & Obesity Intended Improvements & Bonus Benefits of the Dash Diet
Step Two: Set Your DASH Goals

Learn About the Good (K, Mg & Ca) & the Bad (Na, LDL & Sugar) Baseline Data, Vital Statistics & SMART Goals Myths vs. Facts of DASH
Step Three: Prepare for the DASH Diet

DASH-friendly Food Groups Daily Ideal Intake of Nutrition Day Zero of the Diet
Step Four: Start the Dash Diet

DASH to Control Hypertension DASH to Reduce Weight DASH in Comparison with Other Diets
Step Five: Stay on Course

Progress Monitoring Schedule & Tools Support Groups and your Environment Do's & Don'ts
Download your copy today!
Tags: DASH diet, dash diet, dash diet plan, dash diet weight loss, lose weight, get healthy, hypertension, high blood pressure, lower blood pressure, natural, healthy, how to, dash diet recipes, dash diet meals, heart disease,