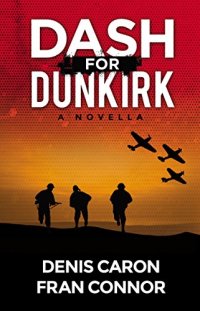 Bargain on 14th Jun 19



or borrow free on Kindle Unlimited.
No reviews yet.
No man is an island… and no man is left behind.
May 1940: Royal Air Force pilot Harry Fitzgerald is one of millions of heroic Allied troops fighting against Nazi Germany. In the pitched heat of battle over the skies of Northern France, Fitzgerald is shot down by an enemy plane and captured. Miraculously, he escapes certain death but must make his way back to the Allied evacuation at Dunkirk to get back home.
However, Fitzgerald is in the middle of a warzone. At a chateau turned hospital, he encounters two of his wounded comrades. Too sick to reach Dunkirk by themselves, they helplessly lie in wait as the German army advances. Fitzgerald knows he must save them, and with the assistance of the French nurse Solange, the refugees attempt to reach Dunkirk-before the Nazis can reach them. It's a life-or-death mission through dangerous territory where nothing is guaranteed.
In Dash for Dunkirk, authors Denis Caron and Fran Connor explore a world where loyalty and bravery face off against an unforgiving enemy. Bound together by duty and honor, war heroes push themselves to the limit through refugee-crowded streets, mechanical setbacks and enemy attacks. Will they reach safe harbor, or will the ultimate evil finally prevail?
Readers of All Quiet on the Western Front and The Alice Network will enjoy this WW2 Historical Fiction Novella.
Ranked #1 New Release in Historical French Fiction
Ranked #1 New Release in History of Western Europe
Ranked #1 New Release in History of England
Praise for Dash for Dunkirk
"A wildly entertaining, action packed story not only about the reality of war, but also of loyalty, friendship, and romance. A must read!"
– Jordan Ebare, Avid Reader & Historical Fiction Enthusiast
"…Captivating and difficult to put down as you want to know more and more about the individuals and the problem encountered while trying to reach Dunkirk."
– Janet ORourke
About the Authors
Denis Caron is a veteran of both the Canadian Army and Air Force. His service took him to places such as Bosnia, Greenland, Senegal, and the Middle East. He now works for the emergency services. In has time to spare, Denis loves to indulge in his hobbies of sampling craft beers, travelling around Europe and adding to his growing collection of WWII memorabilia.
Fran Connor is British and lives in SW France with his wonderful wife Viv, their dog Molly and chickens. He claims he's living in that area for the lifestyle and weather which he says helps an author's creative juices. It may just be an excuse to drink wine and lounge in the sun. He writes novels, nine published so far with two more coming out soon.
*As of August 12/2017