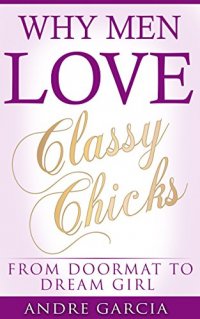 Bargain on 28th Dec 16



or borrow free on Kindle Unlimited.
No reviews yet.
AS A LADY OF QUALITY, DON'T YOU THINK YOU DESERVE TO BE TREATED LIKE ANY MAN'S DREAMGIRL AND NOT AN OVERUSED DOORMAT?
Do you feel like you are getting trampled on by men because of your excessively nice, forgiving nature? Andre Garcia's – Why Men Love Classy Chicks – delivers the enlightening truths about why men abhor spineless women who depend on them for sustenanceand pathetic scraps of affection, even at the expense of their dignityand pride. With much gusto and little fluff, this detailed dating guideis written with the aim of steering women from the depths of hell onto the correct road to happiness. The author provides relevant answers to burning questions such as:
What is 'LOVE' all about? Is what I am experiencing considered 'Love?'

What kind of WOMEN MEN ARE ATTRACTED TO? Do I fall into any of the described categories of desirable women? Are there traits that men dislike about me and therefore, caused the cracks in my past relationship to widen?

Why do some men treat women like a 'DOORMAT' and make them feel suffocated in the relationship? Am I one of those women who is being taken for granted? Do I deserve to be subjected to insults, physical and emotional abuse?

Why do controlling men crave for ABSOLUTE CONTROL and DOMINANCE over their women? Is my man showing similar signs of obsession?

Can women TRANSFORM MEN for the better? Or, is it just a far-fetched dream?

Why women have to learn to LOVE THEMSELVES FIRST before they can earn the love of men?

How can women regain their SELF IDENTITY and CONFIDENCE? Morph into a CLASSY CHICK?

What if everything fails? When is it TIME TO EXIT from this flagging romance?

Can women secure a SECOND CHANCE AT LOVE?
Containing inspirational advice that is beneficial and makes for an entertaining read, the 'attraction rules' and techniques for boosting the confidence of women subjugated under the commands of difficult men will help you to learnto regain your self worth, put your foot down under certaincircumstances, assert newfound independence and communicate your needsto men on a whole new level. Once men have seen the vibrant attitude inwhich you look at love and life, getting their attention is no longer a CHORE and SURVIVING THE ODDS in a romance will become a BREEZE for you!