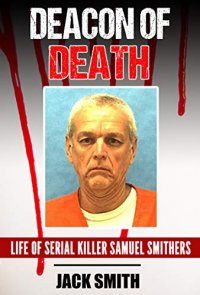 The respected deacon that had everything going for him and turned serial killer in the blink of an eye. What happened? Here is his story.
Download FREE with Kindle Unlimited!
Sam Smithers stood out as a pillar of his community. He respected his mother, he loved his wife and son, he was a hard worker, and he went to church. In fact, he not only went to church; he was ordained as a deacon. He had also served as a firefighter and an unofficial mentor shepherding troubled youths who did community service for the church under his watch.
But that was before the killing began. It remains unclear just how many people he may have killed, but the two women that he was convicted of murdering were slaughtered in such a horrific and callous fashion as to leave no doubt that Sam Smithers was a sociopath of the lowest order. This book describes the misdeeds of Sam Smithers?the Deacon of Death?in full.
Read on your favorite devices such as Kindle, iPhone, iPad, Android cellular phone, tablet, laptop, or computer with Amazon's free reading Kindle App.
Scroll back up and click the BUY NOW button at the top right side of this page for an immediate download!