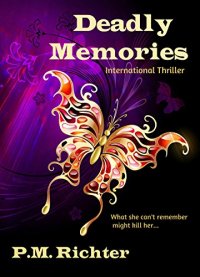 Free on 13th Apr 21



or borrow free on Kindle Unlimited.
No reviews yet.
"She doesn't remember a thing," Rolph snapped into the phone.
Andrea froze. His back was turned away from her. He didn't know she was there, listening.
"It's been six months, for God's sake. If you harm one hair on her head, I'll contact the authorities. My father would be disgraced, but that will not deter me."
Now Andrea couldn't move. There was no doubt Rolph was talking about her. She wondered how his father, the French Ambassador, could be disgraced.
His voice modulated to a threatening whisper. "This is the end. Otherwise she goes directly into protective custody, and I spill my guts. You've lied to me, made me into a damned traitor, and I'm angry enough to do it out of spite."
Now Andrea knew there were secrets he was keeping from her. What did he mean about protective custody? Was she in danger? The one blank spot in her mind was a mysterious car crash six months ago. She didn't know how she had landed at the bottom of a cliff in the Santa Monica mountains of Los Angeles. She remembered the fabulous party in Beverly Hills that night, but try as she might, she couldn't remember the sequence of events leading to that accident.
Rolph's last words chilled her, "I have nothing to lose. I'm a dead man."