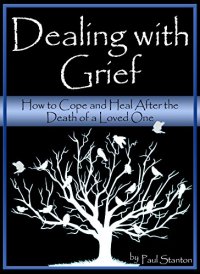 If you're searching for guidance on how to cope with loss in a healthy way, then this book is for you!
Read on your PC, Mac, smart phone, tablet, or Kindle device.
Having to deal with the loss of someone or something you care very deeply about can have you in for some very painful times. Whether you lost a dear friend, family member, pet, or even something like a self-defining career or a long-term relationship, the sadness and pain you feel is a normal part of the grieving process. Different people handle significant loss in different ways, but it's important to understand that the way in which you handle the grieving process actually influences your overall emotional and physical well-being. This book was written to help you better understand the grieving process so that you are more equipped to deal with your grief in a healthy, constructive way.
Here Is A Preview Of What You'll Learn…
The Stages of Grief, Symptoms, & MythsFinding Your Own Way to Deal with GriefTaking Control of Your Grieving ProcessWhat To Do When the Negative Effects Won't Go AwayHonoring the Memory of Your Departed Loved OneMuch, much more!Download your copy today!