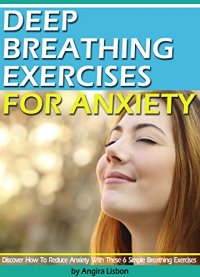 Free on 29th Jun 19 - 3rd Jul 19


No reviews yet.
If you want to learn how to defeat anxiety and stress immediately, quietly, and without even having to physically isolate yourself from your surroundings, then this book is for you!
Today only, get this incredibly useful guide for only $2.99. Regularly priced at $4.99. Read on your PC, Mac, smart phone, tablet or Kindle device.
Stress, panic, and anxiety are a part of daily modern life, and the longer they are ignored, the worse they become. While some people are lucky enough to find their own internal calm, most just pretend to be fine until these problems lead to graver health issues like heart complications, respiratory disorders, or panic attacks. Oftentimes, you find yourself in stressful situations where relaxing through external means just isn't practical or feasible. Advice from experts telling you to "keep yourself calm" is about as useful as a plastic spoon when fighting an alligator. This ebook was designed specifically to guide you through incredibly effective breathing exercises that can be done immediately, quietly, and on the down-low, without the need for anything other than regulating your own breathing. So, are you ready to unlock the pathway to calm without the need for any feel-good pill-popping prescriptions or expensive therapies? Are you ready to learn the most basic and easiest of ways to beat anxiety through the regulation of your own inner peace? Let's get started!
Here Is A Preview Of What You'll Learn…
How Do Breathing Exercises Work Against Anxiety?I'm Too Busy – How To Find or Make TimeOn the Spot Breathing Exercises When Faced With AnxietyEveryday Breathing Exercises to Prevent Stress and AnxietyBreathing and Anti-Anxiety Aids and ApplicationsMuch, much more!Download your copy today!
Tags: relaxation exercises, deep breathing exercises, breathing exercises for anxiety, breathing exercises, how to reduce anxiety, breathing techniques for anxiety, breathing techniques, reduce anxiety