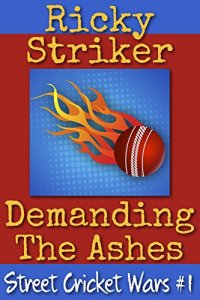 Cricket mad Fred Black is just about to start high school but he has a huge problem on his hands. Evans – Selwood's Primary School's biggest bully who's picked on Fred all primary school – will be going to the same High School next year. Fred decides he must stop the bullying once and for all. Can he and his best mate, Todd, come up with a crazy plan to force Evans to stop the name calling once and for all?
Find out in Ricky Striker's Street Cricket Wars #1 – Demanding The Ashes.
Themes: Friendship, Bullying, Sports, Cricket
*Warning 1* – Episode #1 ends on a cliff hanger just like most TV serial episodes. If you'd rather avoid the cliff hangers and get the whole series at once, then you may like to check out the complete serial early bird edition. I made it available early for readers who can't bear cliff hanger endings or waiting for the monthly installments. It's cheaper this way too!
*Warning 2* – Contains classic Ricky Striker "Weird Humor" moments based on The Ashes
Happy Batting!
Ricky