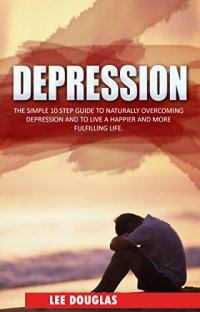 Free on 2nd - 6th Jan 15



or borrow free on Kindle Unlimited.
No reviews yet.
Use These 10 Simple Steps To Overcome Depression Naturally and Live a Happier, More Fulfilling Life!
Are you feeling tired, stressed, or worthless? Does happiness feel foreign to you? Is fulfillment an option in your life? You may feel alone, unhappy, and depressed. You feel like the only way to treat your pain is with massive amounts of medication or sleep. Well, the truth is depression can be treated naturally with the right strategies and mindset. All it takes is 10 simple steps, in those 10 steps, you will be able to understand the reason of your pain, the cause of the pain, and ways to solve the problem naturally without the help of any drugs.
This book contains proven steps and strategies for how to combat the different challenges that go along with depression, and how one can still manage to enjoy his or her life despite having experienced depression.
The first chapter of this book discusses the basic things one should know about depression, including its types, causes, signs, and symptoms. Chapter 2 begins by introducing to us the first 3 steps in overcoming depression by identifying the possible reasons one is depressed. Chapter 3 outlines steps 4 to 8 by providing us with the do's and don'ts when one is depressed. The fourth chapter shares the final steps in overcoming depression. The last chapter warns of the many risks and complications of depression, which we may experience if we do not follow the 10 step guide stated in this book.
Here Is A Short Overview Of What You'll Learn
Understanding Depression: Types, Causes, Signs, and SymptomsSteps 1 to 3: Answering the Why'sSteps 4 to 8: The Do's and Don'tsSteps 9 and 10: Finally Overcoming DepressionRisks and Complications of Depression
Beat depression in 10 simple steps right now with this book for only 0.99!