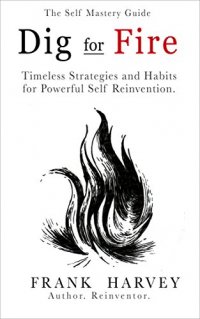 Free on 22nd - 26th Jan 17



or borrow free on Kindle Unlimited.
No reviews yet.
Author Frank Harvey teaches you the most effective habits and tactics you need for complete Self Mastery and Transformation.
FREE Only Until January 14th!
You don't need motivation or more positive thinking. This is not a Self-Help book.
Dig for Fire reveals the truth about the simple, timeless principles that work.
What are people saying?
"Easy read with fantastic content. The author speaks what most of us are thinking and makes you feel like your not alone with every page turned."
"Not only is the over-all message in this book helpful, inspiring, and easily relatable, the style in which it'a written is very conversational and almost comforting when reading it. The ideals in this book are overwhelmingly real and extremely important for everyone"
What challenge do you need to overcome?
Your mind? Your body? Relationships? Weakness?
This book shows you how to take direct and immediate action towards your goals.
DIG for FIRE TEACHES YOU:
~ The one thing successful people have that most miss
~ The three causes of distraction and how to beat them
~ How to achieve what 92% of the population never does
~ How I mastered my sleep patterns
~ The myth of motivation
~ How to define your life's purpose
~ The magic of preparing for the worst
~ One simple step that ends procrastination
~ How to eliminate fear, stress, and ego
~ How to reinvent yourself
Dig for Fire is the culmination of a disorderly, life-long expedition to test the foundations and altitudes of humanity's mental, physical, and emotional capabilities. This work combines an ancient Greek philosophy with the author's own unconventional wisdom from personal trials and victories. Through life's entire spectrum from poverty to success, pain, love and loss, Frank Harvey has built an innovative method that withstands them all. With this book, he provides his unorthodox approach to conquering our most significant and elusive challenges.