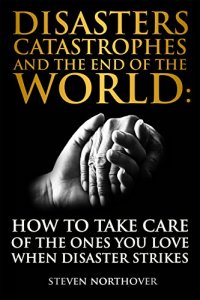 Free on 1st - 3rd Jan 22



or borrow free on Kindle Unlimited.
No reviews yet.
Have you wanted to get prepared for common disasters but didn't know where to start?
Do you feel overwhelmed by all the things you must know how to do?
Are you stuck at the start, wondering if you have enough money, time and energy to get ready?
This short, easy to read book will show you what to do step by step. The author will help you to get started by reducing the clutter and getting right to the essentials. The author will help you identify the disasters you should be ready for. He will help you identify the skills you need and tell you what is important. Not only that the author found the resources you need. All you have to do is point and click. Do you want a sneak peek at the End of the World as We Know it? He gives you that too.
Disasters, Catastrophes and the End of the World gives you the means to keep your loved ones safe. Here is what you will get:A review of the most common kinds of disastersA method for identifying the disasters most likely to occur where you liveReasons to plan and the things to plan forSkills review to help you determine what you already have and your current expertiseA skills resources guide you can point and click your way through to get the skills you needAnd you will get a sneak preview of the end of the world as we know it.When you follow this book's advice, you will prepare yourself to protect your loved ones. And the best part is you will discover it doesn't take much money nor time to move from not ready to ready.
What is stopping you? In a few extra minutes per day can become your family's Heroic First Responder.
Scroll to the top and click the "buy now" button.