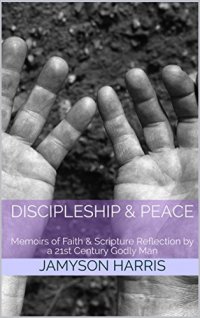 Free on 9th - 13th Oct 17



or borrow free on Kindle Unlimited.
No reviews yet.
Discipleship and Peace:
Memoirs of Faith and Scripture Reflection
By a 21st Century Godly Man
Jamyson Harris
Finding God's Voice Amid the Din of Life
Being a person of faith can be very challenging when things don't appear to be going right, it can be difficult to put our trust in God when our day-to-day reality is one of chaos and not peace.
When our world seems unfair we may discover that unconditional love, forgiveness and the principle of being non-judgmental are difficult to put into practice and in such times our faith can be found wanting. Discipleship and Peace is a devotional guide filled with practical advice to deal with such issues and does so centred around key teachings of the Bible.
At 27 years old, Jamyson Harris experienced a sudden misfortune that meant he faced being homeless with no money to put food on the table. Having nowhere left to go he turned to the Bible to appeal to God's Will, where he read:
Philippians 4:19 My God will meet all your needs according to his riches of his glory in Christ Jesus.
It was then, by surrendering his will to God's Will that his fortunes began to suddenly change.
Discipleship and Peace is a little book of returning; of directing our ear towards God's Voice as it whispers to us in subtle ways throughout every moment of the day. Through the heart of the Bible, Harris induces meaning from its teachings in simple and clear words that help the reader rise above the worries of the world and put their trust fully in Him. With practical steps to deepen our relationship with God that inspires intentional awareness of how His magic guides us, our anxieties and stresses begin to soften as we learn to trust God more.
Discipleship and Peace is a guide to help you take your faith out into the world, by clicking Add to Cart now to understand how to sense God's hand in your day, you will begin to learn to trust Him again.