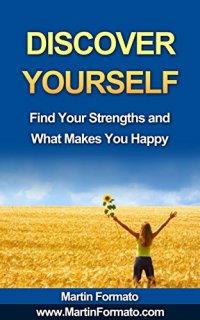 Free on 6th - 8th Jun 17



or borrow free on Kindle Unlimited.
No reviews yet.
Discover Yourself: Find Your Strengths and What Makes You Happy
Today only, get this amazing kindle book for just $0.99. Regularly priced

at $5.99. Read on your PC, Mac, smart phone, tablet or Kindle device.
You are about to find out WHO YOU REALLY ARE.
Surprisingly enough, most people don't know or have forgotten who they are. They realize the problem, but have been unable to find the solution.
The truth is, if you are feeling lost, it is because you do not know where you are.
This book is your map. It will help you define where you came from, where you are and where you are going.
This book will help you know yourself better. Knowing yourself is your foundation. From there you can build yourself up. Once you know yourself you will be in a better position to decide which direction to take in life that will bring you peace, success and happiness.
Here Is A Preview Of What You Will Learn…
Who Am I Today? My Past My Beliefs Life Phases Wheel of Life My Strengths Which Areas Can I Improve? What Resources or Help Do I Have Access To? What Makes Me Happy?6 Core Human Needs My Values And much, much more!

Take action now to discover yourself by downloading this book for a limited time discount of only $0.99!
I'm so confident that this book is going to help you that I'm going to give you a 100% Honest, 60-day Money-back Guarantee! This way the risk is removed.
Download your copy now!
Tags: discover yourself, find your strengths, what makes you happy, what makes us tick, know thyself, know me, myself, discovering me, discover your strengths, who am i, you are here, finding me, introvert, introverts , reduce stress, change your life, discover your genius, discover the power within you, success, depression, relieve stress, relieve anxiety, happiness, greatness, how to feel good about yourself, how to feel great about yourself, happy, how to feel good, how to feel great, how to be happy, self-compassion, self esteem, self confidence, low self esteem