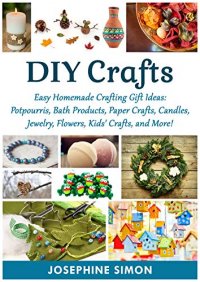 Easy Crafting Projects for Everyone! Great DIY gift ideas that are simple to make, budget-friendly, and have a wow factor everyone will appreciate!
Download FREE with Kindle Unlimited!
This year, skip the materialism and show your love with a handmade gift ? it just means so much more when you invest your time and effort.
Crafts that work!
Have you ever tried to make a handmade gift, only to end up with a sad piece of work? We have been there, too!
In this book, all the craft ideas are specially chosen to give you a crafting experience that will require little skill and some basic tools, that will look great and serve a useful purpose. All these crafts projects are perfect for beginners as well as more experienced DIY craters. And best of all, they are all budget-friendly! You can create beautiful items that people will love to receive or just to keep them for yourself. There are many crafting projects to make with the kids for some family time fun
Inside this illustrated book, you will find:
Holiday crafts like the Christmas Potpourri and the Hallowe?en GhostsKid-Friendly Crafts like the Nature Beasties and the Painted BirdhouseEasy Gifts and Home Decoration crafts like the Decorative Candles and the Eternity Roses Bathing and Personal Care Crafts like the Bath Bombs and the Colorful Glycerin SoapAnd many more!