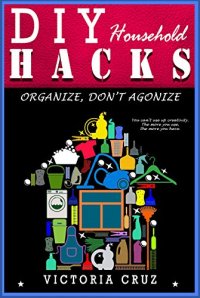 Learn How to Make Your Life Chemical-Free By Making Your Own Inexpensive Natural Cleaners and Household Supplies!
***As a Thank-you for Your Download Today, You'll Find a FREE Offer at the Beginning of this Book***
Do you spend a lot of cash on chemicals you think are required, but are potentially harmful, especially if you have children in the house?

Have you always wanted to make your own cleaning supplies at a fraction of the cost of buying expensive ones from the big box stores?

When you download DIY Household Hacks, you will be able to make your own natural, chemical free products as well as inexpensive home-made cleaning supplies to keep your house looking great every day! Whether you're a working parent or a stay-at-home inspiration, you know how dangerous chemicals can be if they're exposed through endless cleaning and maintaining.

This book is your knight in healthy armour! Apart from welcoming you to a chemical-free world of cleaning and household supplies, this book will also help you train your children to help out in household cleaning chores without exposing them to harmful chemicals. Next time your child asks to help out, you'll be proud to say, "here you go!"

I'm sure the health of everyone in your home is your important to you. So, it only makes sense then to avoid using toxic and expensive cleaning chemicals.

These easy-to-follow recipes combine simple household items to solve any house-cleaning emergency. And, you'll reduce the costs to your wallet, your family's health, and the environment.

Download Now today to find out about chemical-free household hacks and stop wasting your money on expensive, time-consuming, and harmful cleaning products.
Trust me, you'll be happy you did!
"Organize, don't Agonize!"

– Florynce Kennedy