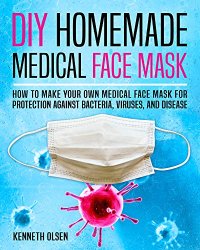 Protecting Our Communities
When things are going well in our society, it?s easy to get complacent and take things for granted. However, when something bad happens, the cracks start showing right away. Nothing quite disrupts the status quo like the spread of disease. Disease doesn?t care about who we are or the plans we?ve made. We can?t argue with outbreaks. We can, however, take back control by protecting ourselves.
This book discusses one way people can help in keeping a community safe: homemade medical face masks. When are they useful? What do they do exactly? How do you make one? This book answers these questions and more, giving the reader essential information on how to stay safe during a normal cold-and-flu season, an epidemic, or even a pandemic. You?ll learn about:
The history and purpose of face masks and respiratorsWhen you should wear a mask How to make your own face mask with everyday suppliesHow to take care of your mask and when to throw it away What else you need to do to stay safe during an outbreak
We live in scary times. Even though we?ve clearly progressed since the days of the Black Plague and smallpox, there?s a lot about disease we don?t know. For millions of people, potentially fatal diseases are not an unusual occurrence. They might even be part of normal life. Even for people who don?t think about a serious disease that often, every couple of years or so, a major disease threatens the structure of our world. Knowing how to make a mask and how to use it properly gives you more security and safety. Who wouldn?t want that?