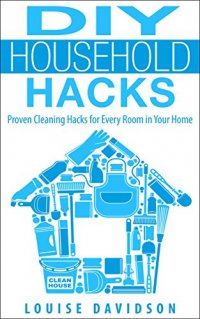 Free on 27th Feb 22 - 3rd Mar 22


No reviews yet.
Innovative and Easy Household Hacks for Every Room in your Home
Let face it. Who likes to clean? It takes time, energy and can be quite expensive Not many people do, but still, we all want to have a spotless and organized living environment. This is the focus of this book, one room at a time.
We all want to maintain a clean and tidy living environment. Add to that the problem of high prices of cleaning products, and what you have is an expensive, chemical-laden job, just to keep your house clean.
Most people live extremely busy lives. We all want to put out minimum effort and get maximum benefits. More and more folks want to do away with so many chemicals, and find safe, natural ways to clean.
This book is replete with hacks, tricks, and tips that will help you exactly do that.

After reading this book, you will be able to use regular household products for which you previously had little use, in new, creative, and innovative manners. These, combined with the great household hacks in this book, will enable you to take care of your house better than you can currently imagine.
You will find Do it Yourself (DIY) efficient hacks for the kitchen, the bathroom, the living room, the bedroom, the laundry room, the home office and even the garden! These surprisingly efficient hacks will save you time money and energy.
You will also learn how to make your own cleaning products with all the recipes to make your home shine and smell fresh
.

These products are all natural, better for the environment and contain environmentally friendly ingredients that are safe for the well being of family and yourself. These include laundry detergents, floor cleaners, stain removers, tile cleaners, wood polish, bug spray, bathroom cleaners, and so much more.
Let get started! Scroll back up and grab tour copy today!