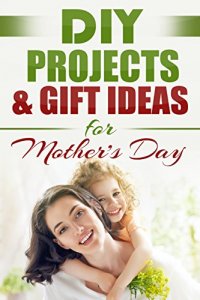 Free on 8th - 12th Mar 15


No reviews yet.
This book appears to be unavailable on Amazon.co.uk at the current time. If this is incorrect, please let us know here
Discover DIY Projects & Gift Ideas for Mother"s Day: Amazingly Easy Guided Gift Ideas For Beginners To The More Experienced (with Pictures!)
~$0.99 LAUNCH PRICE!~
~FREE TO READ WITH KINDLE UNLIMITED~
PLUS, SPECIAL BONUS FOUND AT THE END OF THE BOOK FOR ALL READERS!
Handmade gifts make some of the most thoughtful, cost-effective gifts you can think of. For this Mother's Day, why not see what all the fuss is about DIY gifts?
This book provides you with a step-by-step project plan on a number of unique, interesting and cool things to make on Mother's Day. Everything from the basics to the more complex, this book really has it all.
For those out there that have never tried anything like this before, you'll find easy to follow instructions that produce beautiful gifts. And for those more experienced folks, well, there's something in here for you too!
Each project comes with instructions and a picture showing you what the final product should look like.
Mother's Day only comes around once a year. But, you can start a new tradition anytime. Why not make something that will be treasured for years to come? You'll be pleasantly surprised at how easy it is.
Comments From Other Readers
"It felt so good to give my Mom something different this year. She's such a unique person and I'm so glad to have her in my life. She absolutely treasured this DIY gift. And, it didn't turn out so bad if I say so myself." ~Megan (Little Rock, Arkansas)
"I'm absolutely terrible at this sort of thing but I wanted to do something different this year. And am I glad that I picked up this book. Easy to follow instructions and clear pictures helped me confidently produce some nice gifts. Funny thing is I can see myself doing this for more than just Mother's Day!" ~Steven (Sacramento, California)
Want to get access to some really cool gift ideas for Mother's Day?
What are you waiting for you?
See you on the inside so we can get started!
~Do It Yourself Nation
—–

Tags: Do It Yourself, Crafts and Hobbies, Crafts, DIY, Parenting, Mother's Day, Holiday Gift