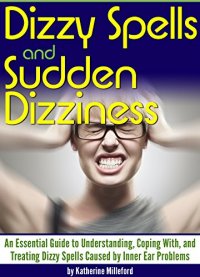 Free on 3rd - 7th Nov 18



or borrow free on Kindle Unlimited.
No reviews yet.
If you've recently been experiencing dizzy spells or sudden dizziness, then this book is for you!
Read on your PC, Mac, smart phone, tablet, or Kindle device.
Dizziness has a certain way of adversely affecting your daily activities – and that's putting it nicely. This is because when the world is spinning all around you, you can't exactly focus on the task at hand. Your brain is blurry, you can't think clearly, your muscle coordination is off, and – if you're anything like me – you're also feeling queasy and nauseous. Addressing your dizziness problem early is critical, because by getting down to the root cause, you have a much better chance of curing it or at least being in a position to reduce the severity of the symptoms and cope more effectively. This book is going to present you with a lot of information in easy-to-understand language about the potential causes of your dizziness, and what you can do about it in terms of coping, management, and medical treatment. Of course, it is always recommended that you go visit your doctor in person if you're experiencing frequent dizziness, and this book is not intended to be a substitute for such a consultation. It will, however, help you be prepared to have a more comprehensive discussion with him or her.
Here Is A Preview Of What You'll Learn…
Understanding Dizziness and Dizzy SpellsWhat Causes Dizzy SpellsImportant Emergency ProceduresTreating Dizzy Spells Caused by Inner Ear ProblemsHow to Cope with Dizziness and Dizzy SpellsUseful Advice to Avoid ComplicationsMuch, much more!Download your copy today!