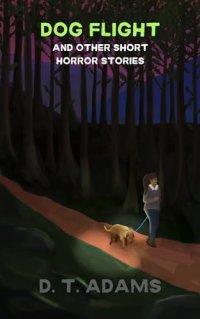 Encounter frightening people and witness bloodcurdling phenomena.
Seven short horror stories await you. In each chilling tale, someone ends up in grave peril.
Beauty Thine, Beauty Mine. A sociopath has an urge to paint a particularly beautiful womanDog Flight. A dog walk turns into a nightmare scenarioKnocked Down. A set of cursed dominoes causes a woman?s life to collapse around herLife Lesson. A man is tasked with committing murder in order to move on in lifeThe Rearranger. A savage being with a fondness for distorting human bodies wreaks havocThe Snatcher. A visit to a fortune teller causes strange and deadly things to happenToo Far Back. A time traveller makes a mistake with devastating consequences
Death is looming. Will it claim any of the characters in these short stories?
If you?re a fan of the horror genre, you?re sure to enjoy Dog Flight.
Buy now and find out who survives their horrific predicament.