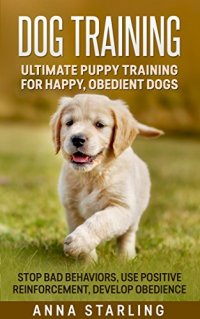 Free on 24th Dec 16


No reviews yet.
This book appears to be unavailable on Amazon.co.uk at the current time. If this is incorrect, please let us know here
Discover How to Train Your Perfect Dog and Eliminate Bad Puppy Habits FOR GOOD
Most dog owners think that they are treating their dog very well. They provide them with a great loving home, they feed the pup, and they teach their dog a basic trick or two. But the result is a seemingly naughty puppy that barks all the time, pees on the floor, and doesn't come when you call. How did this happen?
Most dog owners don't know how to properly raise their puppy and train their dog. Most dog owners will have a dog that doesn't listen to them and doesn't respect them.
So how do we turn this around and create the perfect puppy companion? In this book, we will walk through an easy step by step process of how to reinforce good behaviors and stop and prevent bad behaviors. We will go through how to raise a puppy from the beginning so that it never runs into these problems down the road, and how to train an older dog that has developed bad habits to a well-behaved dog that you always wanted.
Not to mention, we have included a robust set of tricks to teach your dog so that you will have the most behaved and smartest dog in the neighborhood.
Here Is A Preview Of What You'll Learn…
Tips for a Happy PuppyObedience TrainingStopping Bad Behaviors Such As…How To Stop Excessive BarkingHow To Stop Your Dog From BitingAlternative Steps For Aggressive PuppiesHow To Stop Your Puppy From Jumping On PeopleStop Dog Agression Early OnAnd Stop Aggression Towards Other DogsPositive Reinforcement TrainingHow To House Train Your PuppyAnd Tips And Tricks For Dog Owners
Download Your Copy Today!
To order this Dog Training book, click the BUY buttons and download your copy right now!
Tags: Dog Training, Puppy Training, Dog Training Tricks, Perfect Puppy, Obedience Training, Positive Reinforcement