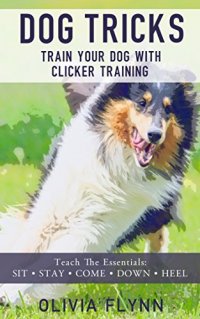 Bargain on 23rd - 27th Apr 17



or borrow free on Kindle Unlimited.
No reviews yet.
There are no bad dogs; only bad dog training methods
Dog training is about more than fun dog tricks. Use this self-guide to start dog training step-by-step at home to improve your dog-owner relationship, strengthen your bond and increase trust between you and your best friend. Also learn how to train your dog the dog tricks of sit, down, stay, come and heel.
Dogs want to understand the boundaries and expectations of their behavior. If you are not helping your dog understand what is expected of him or her, he or she probably feels confused, distracted, and without trust in your relationship.
By teaching your dog how to learn, and how to obey your commands, you are training your dog how to communicate with you. This is a special language that will only exist between you and your dog. Like any relationships in our lives, there need to be clear expectations, a shared language of communication, and trust.
Dog Training your dog with our method and dog training tips lays the foundation for a healthy, happy partnership with your dog.
If you buy and read our dog training book, you will:
Learn the most precise way to train your dog with clicker training
Understand the benefits of a positive reinforcement dog training philosophy
Learn how to become your dog's teacher, guide, companion and best friend
Find the best dog training environment to set your dog up for success with his dog tricks
Acquire the best training method and dog training tips for reinforcement
This dog training book also includes step-by-step instructions for the 5 essential dog trick commands that every dog should know.
If you buy "Dog Tricks," you will train:
SIT
DOWN
STAY
COME
HEEL
There are no bad dogs! Only bad dog training methods. Read this dog training book to improve your dog's obedience, behavior and grow a solid, healthy relationship with your pooch while learning fun dog tricks.
Buy "Positive Dog Training" today to start building a better bond with your dog.
*Note: You don't need a Kindle to read this small talk conversation book — read it in your browser with the Kindle Cloud Reader right now by clicking the buy button!