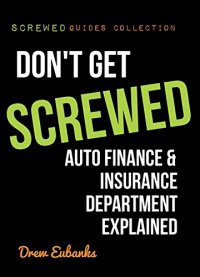 This book contains proven steps and strategies on how to help save you time and money when purchasing a new or preowned vehicle.
When considering a purchase of a new or new to you (pre-owned) vehicle there are many things to consider. Unfortunately most people overlook a few of the most vital parts of making an educated decision. In fact most people are not educated at all about how to purchase a vehicle and fall pray to the sharks who are out to make the most profit possible when you decide to trade in or add a new vehicle to your collection.
THINKING ABOUT BUYING A CAR? LEARN THE SECRETS OF BUYING A CAR FROM A VETERAN OF THE CAR BUSINESS!
The Finance & Insurance Department (F&I) is one of the most important offices in an automobile dealership. This office brings a lot of profitability to the dealership as well as offering the customer financing options without having to leave and possibly reconsider their purchase. In the F&I office you can get approved for auto loans as well as getting the chance to purchase various products to protect your vehicle and loan for the vehicle.