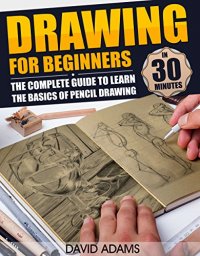 Free on 22nd - 23rd Mar 15


No reviews yet.
This book appears to be unavailable on Amazon.co.uk at the current time. If this is incorrect, please let us know here
Ready to make incredible drawings with your pencil?
BONUS VIDEO INCLUDED at the end of this book; I'll share with you two great videos that will really inspire you to start drawing right now!
Download this drawing book for just $0.99. Regularly priced at $4.99. – Limited time offer –
If you are someone that is interested in pencil drawing as a beginner, this book offers you the basic knowledge you will need to get you started. You can read and learn the basics that are needed to become a master in pencil drawing in less than 30 minutes. One of the great things about drawing is you can do it pretty much anywhere and on anything. The best way to get into drawing is with learning the basics of pencil drawing. Once you have practiced and explored this level you can expand your talents into different areas using different mediums in which to express yourself artistically. You do not have to go into any great expense in tools to get you started, all you will need is a pencil, paper, eraser, and a ruler. You probably already have these items lying around your house somewhere.
You may be someone that has trouble with drawing things and would like to learn how to improve your drawing skills. It can feel uncomfortable if you are asked to express yourself in a visual way, especially if you do not consider drawing something you are good in. Many people have the belief or idea that drawing is a talent that cannot be taught as a learned skill. But contrary to what some believe drawing can indeed be taught as it is highly learn-able. Anyone can become a master of pencil drawing if they have patience, dedication, and perseverance. But we all have creativity within us, some of us need some extra guidance to show us how to release it. Maybe you feel that you have no artistic talent, but I assure you are wrong, we all have some form of it within us.
Why should you download this drawing book?
If you truly want to release the inner artist trapped inside you this book can help you do that. All you need to do on your part is to read and follow the advice offered to you within these pages. If you take these steps you will be well on your to allowing your creative juices to flow. You must be willing to develop your artistic side that is hidden somewhere inside you just waiting to burst out! Make sure to be full of the desire to learn, and keep working at it, and making a commitment to practicing on improving your artistic skills.
Topics Covered inside this Book
learn how to draw with a pencillearn warm up exercises to get you started with your drawinglearn about the contrast of lights and darkslearn about contrast, shapes, and objectslearn how to do a drawing composition>learning how to draw in perspective so you can add a multi-dimensional look to your drawingsexperience how to do a basic Zentangle art drawing
Available on PC, Mac, smart phone, tablet or Kindle device.

© 2015 All Rights Reserved
Are you ready to get started?
Scroll up, click the buy button & get started today!