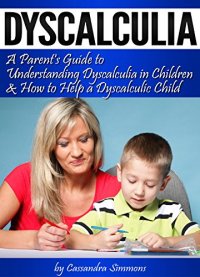 If your child has recently been diagnosed with dyscalculia and you want to know how to help, then this book is for you!
Read on your PC, Mac, smart phone, tablet, or Kindle device.
If your child has trouble recognizing simple math symbols and analyzing problems, but is good in other subjects, then chances are, he needs special attention. Don't hesitate to find out if he has the math learning disorder called dyscalculia. Math has always been a subject most feared by students, and this can be aggravated when your child has dyscalculia. If dyscalculia is not recognized and addressed early on in life, it can cause problems as the child goes on to learn advanced mathematics, trigonometry, and other math-related subjects. If your child is confirmed as having dyscalculia, treatment and management measures should be initiated promptly. This book is designed to help you better understand dyscalculia and what you can do to assist your child at home. Using the recommended interventions and measures presented herein will help your child overcome and manage his math disorder so that the negative impact it may have on his life can be significantly minimized or even altogether eliminated.
Here Is A Preview Of What You'll Learn…
Causes and Symptoms of DyscalculiaHow Dyscalculia is DiagnosedHelping and Supporting Your ChildHome-Based Activities for Dyscalculic ChildrenRecommended Therapies and InterventionValuable Pointers in Managing DyscalculiaMuch, much more!Download your copy today!