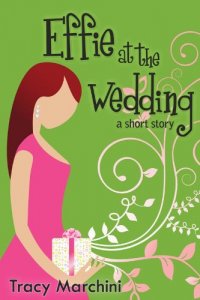 Free on 30th Mar 15 - 3rd Apr 15


No reviews yet.
This book appears to be unavailable on Amazon.co.uk at the current time. If this is incorrect, please let us know here
Effie has a million reasons why she's not thrilled to be at her sister's wedding — and the monstrously pink bridesmaid's dress isn't even on the list. When Effie finds herself locked in the bathroom, she thinks she might just stay there. After all, it's better than hearing from her mom about how often she's been to the buffet or how beautiful Ophelia looks in her wedding dress.
In this hysterical young adult short story, Effie will have to find a reason to celebrate… or get used to her porcelain throne.
Sample:
5 (Totally Selfish) Reasons I Do Not Want George As A Brother-In-Law
5.) My sister is only 20, and he is 29. That means he's almost thirty, which means that when she's forty, he'll be almost fifty, and then when she's fifty, he'll be almost sixty. Too old.
4.) He just graduated med school. People never see their spouses when one is a doctor. And on Grey's Anatomy, the doctors are always sleeping with the other doctors and nurses. Ophelia is cute, but she can't compete with a tall, blonde-haired millionaire doctor. (Sorry, Ophelia.)
3.) He's too nice. Nice is lame. Ophelia will be SO BORED when she's like, 23 and realizes that her older, doctor boyfriend is too busy saving lives and golfing to go out clubbing.
2.) He's too good looking. Again, the nurses are bound to fall in love with him.
1.) I will never be able to bring a boyfriend home without him also being a good-looking, well mannered doctor. Which means that I am going to be single for the rest of my life, while my sister and her husband make lots of good-looking doctor babies. I will have lots of cats.