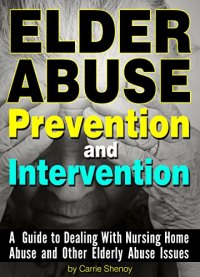 If you're ready to help stop the abuse of an elderly person in your life, then this book is for you!
Read on your PC, Mac, smart phone, tablet, or Kindle device.
The abuse of elderly persons is fast becoming one of the major problems in the care of this vulnerable age group. These acts aren't isolated to nursing homes either. It happens in the home as well, even sometimes perpetrated by members of the victim's own family. If you're planning to move into a nursing home, or are planning to move a family member into one or under the care of someone else, learning how to deal with elder abuse properly will help a lot in preventing its occurrence. How will you know that you're being abused? When and how will you report the deed? These are all important points to understand so that you're prepared to deal with the situation immediately, or better yet, prevent it from happening in the first place. This ebook will help you learn how to recognize and deal with abuse in nursing homes and at home by discussing both prevention and intervention in detail.
Here Is A Preview Of What You'll Learn…
Signs and Symptoms of Elder AbuseTypes of Elder AbuseMethods to Prevent Elder AbuseCoping and Dealing with the Aftermath of AbuseHow to Ensure Homes are Safe from Elder AbuseHelpful Resources and State-Sanctioned Guidelines to Tackle Elder AbuseMuch, much more!Download Your Copy Today!