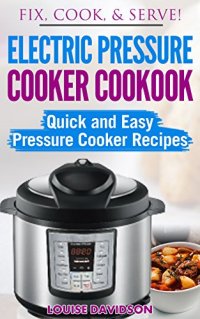 Making wholesome and healthy meals FAST is not a dream anymore thanks to electric pressure cooker!
Download FREE with Kindle Unlimited!
Electric pressure cookers are being hailed by some as nothing short of a modern-day miracle in the kitchen. This state-of-the-art multi-cooker is a godsend, especially to those familiar with the cumbersome and even dangerous pressure cookers of the past. It is a safe and easy-to-use version of the old fashioned, stove top pressure cooker.
Inside, you?ll find:
?Introduction to electric pressure cookers and their many advantages,
?basic steps for pressure cooking and various tips for using electric pressure cooker.
?50 delicious, quick, and easy recipes made in minutes including breakfast, soups, snacks, appetizers, main entrées, vegetarian meals, and desserts. Examples of the recipes you will find inside include:
Electric Pressure Cooker Yogurt
4-Minute Applesauce
Steel Cut Oats
Black Bean Soup
Hearty Potato Soup
Festive 7-Layer Dip
Homemade Ricotta Cheese
Lemon Garlic Chicken
Braised Turkey Wings
Pork Carnitas
Kahlua Pork
Chinese Pork Belly
Braised Beef
Korean Beef
Lamb Curry
Lemon Salmon
Southern Shrimp Boil
Lasagna
Spaghetti with Meatballs
Mexican Green Rice
Risotto with Zucchini
Steamed Artichoke Blooms
Refried Beans
Crème Brulée
Key Lime Pie
And much more?
In this cookbook, you?ll find an assortment of recipes for newbies and seasoned cooks alike. It?s time to try it out, and find out why electric pressure cookers make our life so much easier!
Read on your favorite devices such as Kindle, iPhone, iPad, Android cellular phone, tablet, laptop, or computer with Amazon's free reading Kindle App.
Scroll back up and click the BUY NOW button at the top right side of this page to order your copy now!