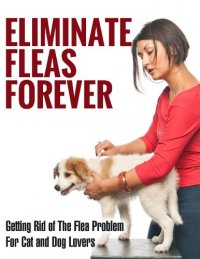 Free on 27th Nov 15 - 1st Dec 15


No reviews yet.
Do you have a flea problem with your cats or dogs? This guide will give your natural solutions for eliminating fleas both inside your home or apartment. I also cover getting rid of fleas on outdoor pets.
These Strategies Will Help You Overcome Flea Infestations and Eliminate Fleas Long-Term
This guide will help you by providing you simple tips for eliminating fleas. The truth is that they can be easily eliminated with what you probably already have stocked in your kitchen and bathroom right now. I cover creating home-made flea collars, flea dip/bath solutions with everyday use products, and many more solutions that don't take a lot of time or effort.
A Preview of What You Can Learn
How to select the flea elimination strategyWhere fleas come from and how they reproduceHow you need to treat your outdoor pets differentlyWhat most people are doing incorrectly with the products they employWhere to purchase the best products that actually have an extended life span in being effectiveHow to find the product if you are going to use the best-selling solutionsNo longer be afraid of a lifetime of suffering from fleas all around you
How could you benefit from a book like this? I go to great lengths to share information that is much more than you could find by doing a simple web search. This guide compiles everything I've found from research to be effective and with the added benefit of being at a low cost.
Download Your Copy Today
To order Eliminate Fleas Forever: Getting Rid of The Flea Problem for Cat and Dog Lovers, click the BUY button and download your copy today. You can read the book from the convenience of your Kindle, Computer, or Tablet.