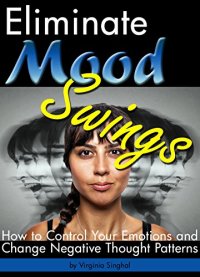 Free on 29th Sep 16 - 3rd Oct 16


No reviews yet.
If you want to learn how to better handle negative emotions and get rid of your mood swings for good, then this book is for you!
Read on your PC, Mac, smart phone, tablet, or Kindle device.
With our increasingly hectic schedules and fast-paced work environments, people's everyday lives are inevitably becoming more and more stressful and chaotic. This huge amount of stress and anxiety takes a considerable toll on our mental health, which is an aspect of our well-being that is unfortunately often overlooked. As such, more and more people are experiencing emotional instability that comes from a fragile mental state, swinging from uncontrollable outbursts to bouts of depression. If this describes you, I have no doubt that you want to rid yourself of these extreme emotional responses since they're adversely affecting the quality of your life and the lives of others around you.
Being overworked isn't the only cause of these mood swings, though. This ebook is designed to help you find and address the root cause of the negative thoughts and emotions that plague your day-to-day life. More importantly, it contains easy exercises and activities that anyone can do to regain the emotional and mental balance they've lost. Don't wait any longer to find the peace within yourself and take the next step to eliminate the irrational spurts of rage, sadness, or both. You've already taken the first step towards emotional stability simply by recognizing your own desire and willingness to change for the better. Don't stop here – keep going!
Here Is A Preview Of What You'll Learn…
How to Pinpoint the Root Cause(s) of Mood SwingsCorrecting Outward AspectsMethods on Redirecting Extreme EmotionsDaily Activities to Eliminate Mood SwingsThe Correlation Between Mental and Physical Well-BeingIdentifying and Improving Lifestyle Factors that Affect Mental HealthMuch, much more!Download Your Copy Today!