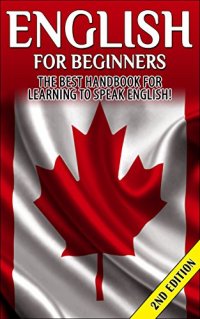 English for Beginners 2nd Edition: The Best Handbook for Learning to Speak English
LEARN ENGLISH TODAY!!!
Introduced to the British Isles by conquerors from northern Europe as early as the fifth century, English was accepted and used by the British as their everyday language. From the time of their explorations in the 15th century, they brought the English language to the different continents particularly North America including Canada as well as the Caribbean, Oceania which was then known as Australia and New Zealand, Africa and even Southeast Asia, specifically India and the Pacific. American colonists likewise brought the English language to all their colonial outposts in the early 19th and 20th centuries.
As a result of the said British and American imperialism, the use of the English language extended to all their colonies, reaching a widespread coverage which led to its adoption as a common language.

Currently regarded as the universal language, English is the 2nd largest native language across all countries, spoken by nearly 800 million people around the globe. It is the official language in over 70 countries which are collectively responsible for 2/5 of the world's gross national product.
As such, it presents undeniable dominance in international relations and business. Because of this, English as a means of communication is therefore an essential requisite for the growth and development of a nation. Thus, English is massively used in information transfer through modern and conventional methods such as the internet and traditional schools worldwide. In fact, it is the top language used in the internet by nearly 560 million users and based on data from the International College of Economics and Finance which is an arm of the National Research University, there are more than 7,000 international schools worldwide reaching around 3.5 million students using English as the channel for learning notwithstanding the local schools in other countries which

likewise use English as the medium of instruction.
Therefore, it is important to learn English for proper instruction, for accurate transfer and transmission of ideas and information, for business transactions, employment opportunities, and international relations.
Here Is A Preview Of What Is Inside…
The Importance of the English LanguageBasic Steps in Learning to Speak EnglishHow to Enhance DeliveryApplying the Simple Rules of GrammarConstructing Effective Sentences Beware of ErrorsMuch Much More!
Download your copy today!
Tags:Canada, england, learn english, english language, english reference, english words, learn english, speak english, english speaking guide, english language guide, learn to speak english, learning english