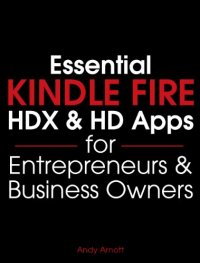 If you've ever wanted to transform your Kindle into a device that is perfect for working on then this is the book for you.
The Kindle Fire HDX & HD are incredible tablets and I love them, however they were primarily designed to be an entertainment devices and are therefore not primed for effective and productive work.
Thankfully this can be easily remedied by diving into the world of apps. After I continually met stumbling blocks when trying to run my businesses through my Kindle Fire HDX I went on a mission to uncover the apps that would turn my Kindle into a tablet that was perfect for operating my business.
This book is the result of my testing and experimenting with hundreds upon hundreds of apps to find the best-in-class for people looking to harness their Kindle for business.
Learn the essential apps you need to supercharge your Kindle for email, communication, creativity, remote working and much, much more.
Every app has been judged from an unbiased position so that the recommendations for the 'Essential Apps' are purely based on the merits of the app alone.
These apps will transform your Kindle and will boost your productivity, save you time, help you be more creative and allow you to work remotely from your Kindle.
The book is split into multiple sections and the 'Essential Apps' for each is listed and briefly explained so you can understand why I recommend each app. Each section also includes a list of 'Other Notable Apps' which gives you other options if you don't like my highest rated essential app choice.
So, dive into the book now to see the 'Essential Apps' that will help to transform your Kindle, the way you work and where you work.
Enjoy the book.
Andy Arnott
Oh, and don't forget you also get a free gift for buying… just my way of saying thank you