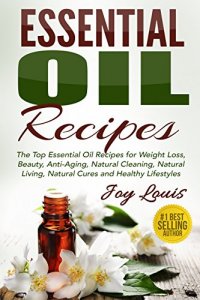 Free on 19th - 23rd Jul 15



or borrow free on Kindle Unlimited.
No reviews yet.
NEW ESSENTIAL OIL RECIPE BOOK REVEALS THE TOP ESSENTIAL OIL RECIPES FOR WEIGHT LOSS, NATURAL SKIN, HAIR AND NAILS, INCLUDING NATURAL CLEANING AND MORE! 99 PAGES OF PROVEN TOP-NOTCH RECIPES!
Here Is A Sneak Peak of What You Can Expect To Learn In This DIY Natural Recipe Book…
Top Essential Oil Recipes for Lip Balm, Skin Care, Facial Scrubs, Lotions, Creams and Body OilsWeight Loss Strategies Using Essential Oils Combine the Right Essential Recipes for Depression Relief, Stress Relief and Anxiety ReliefThe #1 Essential Oil Recipes for Natural Cleaning, Laundry and HomeSpecific Essential Oil Recipes for Healing and First Aid!Pest Control and Germ Killer Recipes Using Essential OilsHow To Guide for Personal Use, Shampoos, Natural Beauty Products, Natural Cleaning and Cosmetics!Much, much more!
ALSO CHECK OUT THE FREE BOOKS INSIDE! More info can be found here: http://joylouisbooks.com/
"Are you curious about my Essential Oil Recipe book, but still not sure this is the right fit for you?
There's an easy way to find out! Let me ask you this… Are you ready to start taking 100% responsibility for your health (and for your family's health)? If your answer is yes, then I'm happy to tell you you've arrived at the right place!
One big part of taking responsibility for our health is to be able to open our eyes and accept the fact that most of the things we've learned thus far in our lives about health have been completely, utterly WRONG.
Just like the toothpaste containing fluoride you've been using your whole life, has now turned out to be poisonous, destructive for our bones and causes fertility issues. Or what about the popular deodorant brands out there? Most of them contains hazardous chemicals that can cause breast cancer in women and prostate cancer in men, as well as an increased risk of Alzheimer's Disease.
Whether you're hearing this information for the first time, or have heard it before, I think we both can agree this is SHOCKING information, and that we're in need of a NEW, non-toxic, natural solution for our every day needs. Whether it be shampoos, cleaning supplies, body lotions, make up removers, deodorants… Truth is, we pretty much need our own homemade solution to everything as we shouldn't trust anyone with our precious health anymore but ourselves. Essential oils can be amongst one of our little helpers, and I'm happy with that!
"Now, what about pain – or illnesses, can essential oils help in that as well?" Yes, absolutely it can. If you're like me, then I'm guessing you're sick of ingesting toxic prescription drugs from the big pharmacies that have more negative side effects than you can even count.
What if I told you essential oils can be your 100% natural solution for ANYTHING under the sun?
I've made my choice to go all natural and want to share my passion for essential oils and natural health with the world. Will you be joining me?
Try out my recipes and let me know what you think.
Yours in health,
Joy Louis"
Today only, get this Amazon bestseller for just $0.99. Regularly priced

at $4.99. Read on your PC, Mac, smart phone, tablet or Kindle device.
Download your Copy Today!
Take action today and download this book for a limited time discount of only

$0.99!
www.joylouisbooks.com © 2015 All Rights Reserved
Check out Joy's Newest Books at her Author page here: https://www.amazon.com/author/joylouis
tags: essential oil recipes, essential oils for beginners, essential oils guide, essential oils guide for beginners, aromatherapy, essential oils for weight loss, essential oil recipes for weight loss, essential oils for hair, essential oils for skin, essential oils for nails, natural remedies, natural cures, natural cleaning, natural cleaning products, healthy living, healthy recipes, ameo, ameo essential oils, zija, zija moringa