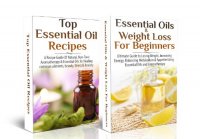 ESSENTIAL OILS BOX SET #2: Essential Oils & Weight Loss For Beginners (Ultimate Guide to Losing Weight, Increasing Energy, Balancing Metabolism & Appetite Using Essential Oils & Aromatherapy) + Top Essential Oil Recipes (A Recipe Guide of Natural, Non-Toxic Aromatherapy & Essential Oils for Healing Common Ailments, Beauty, Stress & Anxiety)
FREE BONUS INSIDE RIGHT AFTER CONCLUSION! 1 CLICK AWAY!
Essential oils & Weight Loss:
Essentials oils are a great weight loss tool, along side diet and exercise by increasing your energy and balancing your metabolism. They will also assist you in suppressing your appetite, boosting your mood and burning fat. Learn how the use of certain Citrus' like lemon, grapefruit, and bergamot are used in aromatherapy, massage and deep breathing to assist you in your successful weight loss journey.
These essential oils have different properties that work to help you in breaking down fat in order to be fully absorbed by your body and turned into energy. They help curb your appetite and your "midnight-snack" cravings. They affect the part of the brain to help you relax and calm down instead of converting your anxieties and stresses into overeating.
The essential oils discussed in this book will be your ally in keeping a regular exercise routine.
Topic Covered….
Essential Oils BasicsHow They Work for YouCitrus Essential OilsNon-citrus Essential OilsHow Essential Oils will be Helper and ComplementHow To Evaluate Yourself With Using Essential OilsMuch, much more!
Top essential oils:
You want to make essential oils?
Don't know where to start?
You need recipes to start with?
Check, check, check! This is the right book for you! But it goes above and beyond by providing pages and pages of recipes right after discussing the basics on essential oils!
Check out what is covered…
What Are Essential Oils?Essential Oil BasicsMaking Essential OilsEssential Oil Recipes for Various AilmentsEssential Oil Recipes for Stress and AnxietyEssential Oil Blends for Cosmetic UseEssential Oil Recipes for Weight LossEssential Oil Recipes for Energy and HappinessEssential Oil Recipes for Your HomeMuch, much more!
Download your copy today!
Tags: Essential Oils, Skin Care, Aromatherapy, Weight Loss, Beauty, Health, Pain Relief, Stress, Hair Benefits, Essential Oils for Beginners, Essential Oil Uses, Recipes, Natural, Sensitive Skin, Acne, Lice, Anti-Aging, Wrinkles, Skin Types, Dandruff, Hair Loss, Treatment, Fungus, Insomnia, Depression, Anxiety, Increase Energy, Appetite, Handbook, Guide, Aromatics, Emotions, Novice, Fitness & Health, Healing, Blending essential Oils, Essential Oil Recipes, Coconut oil, Natural remedies, natural, heal yourself, boost metabolism, metabolism, lose weight, burn fat, fragrance, fragrant recipes, not toxic, mind, relax, body, rejuvenate, improve your hair,