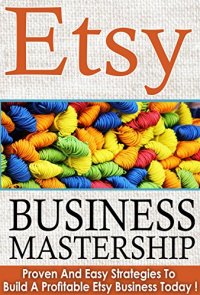 ETSY BUSINESS MASTERSHIP, Proven And Easy Strategies To Build A Profitable Etsy Business
*****STRATEGIES THAT WORK !*****
ETSY BUSINESS MASTERSHIP, Proven And Easy Strategies To Build A Profitable Etsy Business features a step-by-step guide for both beginners and experienced sellers to reach their target markets and drastically increase sales. The tips outlined in the guide are easy to implement, and are friendly enough for users with little or no marketing and branding experience.
By reading this guide, you'll learn how to quickly and easily create an effective business plan. You'll also read about tips for taking photographs that will wow your customers and save you time. There are also guidelines for pricing your products, which helps Etsy artisans gain an understanding about whether they should be charging less – or more!
Finally, you'll discover comprehensive, easy-to-follow branding and marketing tips that you can use right away to help drive more customers to your Etsy shop. This is an absolute must-read for anyone who's starting out or looking to improve their Etsy business!
Building A Profitable Etsy Business Was Never So Easy !
*****Don't Delay Increase Your Sales Today !*****