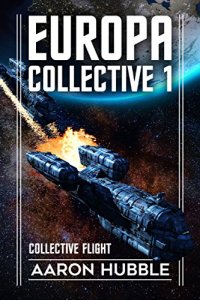 A Ruthless Intergalactic Gang. A Desperate Race Against Time. Long Buried Secrets Revealed.
Malone Kay is a husband, father, and mechanic struggling to make a living on the far outpost world of Carrefour when the foundations of his world are shaken to their core. Thugs from the Europa Collective rip his daughters from his arms, intent on putting them to work in a brothel. With no other choice, he must turn to violence, crime, a crazy freighter pilot, and his wife, a wife with a secret, in order to retrieve his two greatest treasures.
Luana Kay is desperately trying to hold what's left of her marriage together until she is forced to face every mother's worst fear. To get her daughters back she must embrace a past she's tried to bury in the Carrefour soil. With the situation hopeless, Luana is forced to turn to her former employer for help. An organization who's help comes at great cost.
The one thing that stands between the Kay's and a reunion with their daughters is the Europa Collective. A murderous band of former convicts who rule vast reaches of space. The Collective will not willingly let go of what they now claim as their own. With their sites set on higher goals, the Collective begins to take steps toward their ultimate plan.
Europa Collective 1 – Collective Flight is a science fiction adventure filled with fast-paced action, quirky characters, and surprises on every chapter. Author Aaron Hubble has a deep love for science fiction that moves at break-neck speed, but contains characters with depth and true humanity.
Q & A With The Author
Q – How would you describe the Europa Collective Series?

A – You shouldn't ever get bored with this series. I've tried to fill it with high flying, fast paced science fiction action and adventure. At the same time, their are these small moments in between explosions and spaceship chase scenes where we get a deeper look into who these characters are. While they're desperately trying to rescue their daughters, they're also working through some serious issues from their past.
Q – Where did the idea for Europa Collective 1 – Collective Flight come from?

A – I have children of my own, and I realized my worst fears involve something terrible happening to them. Every parent has those thoughts from time to time. That was the genesis of the story. It wasn't hard to put myself in Malone and Luana's shoes and imagine what they would go through and feel. The hard part was allowing myself to think about the terrible reality of losing a child. Nobody wants to feel those type of emotions, but it makes for great fiction.
Q – What are the future plans for the Europa Collective series?

A – Each book will be its own self contained adventure that fits into this greater story. Together Malone and Luana have a story, but they have their own stories as well. The Europa Collective has plans that must be explored as well as the mysterious Deep Luna. Where will this all end up? In great books, I hope!
Q – What does it mean when someone buys your books?

A – Honestly, a sense of wonder. I mean, it has been a dream of mine for a long time to write and publish books. When someone I don't know takes the time to buy, read, and leave a review; it humbles me. To all you readers, from the bottom of my heart, thank you.
Europa Collective 1 – Collective Flight Categories:

Science fiction suspense

Science fiction exploration

Science fiction galactic empire

Science fiction organized crime

Science fiction thriller

Science fiction adventure