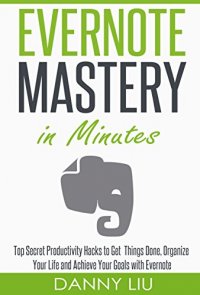 Free on 22nd - 26th Feb 15


No reviews yet.
This book appears to be unavailable on Amazon.co.uk at the current time. If this is incorrect, please let us know here
INCREASE YOUR PRODUCTIVITY IN MINUTES !!! FREE BONUS VIDEO CONTENT WITH YOUR DOWNLOAD TODAY !!!
Have You Struggled with Getting Organized or Getting things done? Then CLICK ON THE "BUY NOW" BUTTON AT THE TOP OF THIS PAGE AND DISCOVER THE POWER OF EVERNOTE !!!
This simple application is not only FREE, it can be used on any mobile or desktop computer anywhere! If you're looking for the perfect solution to get organized, permanently eliminate clutter, and get more time back into your life so that you can focus on the things that matter, Evernote will help get you there!
Why Evernote?
It is an extremely flexible, powerful and yet simple way to not only create lists, but to record thoughts, ideas, web clippings and anything that comes across your mind throughout the day. Here are some other reasons why you should read this book and start using Evernote:
It's Simple to useEliminates paper clutterHas Amazing searching capabilities to help you find what your looking for when you need itBoosts ProductivityAnd so much more!

Why Should I Read This Book?:
There are a lot of books out there on Evernote. What sets this book apart is in its direct simplicity as well as showing you the key to getting Real results in your life while using this powerful tool. You'll not only quickly become familiar with the application so you can be up and running fast, using it to your own advantage, but you'll have access to videos proven to help you master the Evernote environment and tailor it to your own needs!
Evernote isn't your typical to-do list or task manager and together we will discover just how to organize your brain, organize your day, get more done, get things done and lead a more fulfilling life by simply using this system.
Download your copy of this Evernote essentials guide today and become more productive in minutes, not weeks or months, and start getting real results, right now!