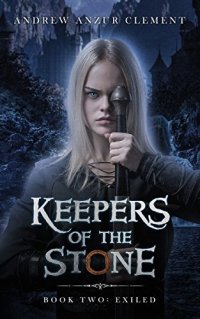 Bargain on 1st - 3rd Mar 18



or borrow free on Kindle Unlimited.
No reviews yet.
This book will be Bargain on 1st - 3rd Mar 18
Set a Reminder:
Google Calender - Yahoo Calender - Live Calender
---
A doomed princess. A deadly gambit. A Prophecy that could determine history's fate.
Malka thought she'd finally come up with a plan for keeping the Fragment from the Urumi's dark Order. Then it all blew up in her face. She and Liza must find a new one, while making their way across the American West to New York in time to rescue Henry. Bozhena has ensnared him in her own ploy to wrest the Fragment into the hands of the demons' Order – and unleash it's unbridled chaos upon the world.
The situation seems clear. Then something none of them expects knocks Bozhena's scheme completely off the rails; Malka makes a shocking discovery about her past. One that could alter the Fragment's destiny and her own. The answers she seeks may lie in the history of another land she knows nothing about. To get them, they will have to depend on the one person Liza most hoped to never see again.
In Europe, Stas continues to grieve for Nell's loss. Then one night, learns his closest friend might still be alive, in great danger – and could hold the key to the Fragment's fate. Stas knows he has to try and find her. This time though, doing so will require him to reject all he's ever believed in – including himself. The even bigger question is: can he trust the information's source?
As more about their situation is revealed, Malka, Liza and Stas grapple with their place in an eons-spanning, supernatural power struggle – where the line between good and evil quickly becomes blurred. The slightest misstep could result in the failure of their quest – and the rise of total anarchy.
The most deeply held secrets are always the most damning….
The Keepers of the Stone fantasy trilogy is a literary homage to Nobel Prize winning author Henryk Sienkiewicz's In Desert and Wilderness. Its a soul-searching, action-packed adventure that will keep you guessing from its middle-of-the-action opening, right up until the end; it will also appeal to fans of the TV series Kung Fu, Avatar: The Last Airbender, and The Librarians. An epic fantasy adventure of expansive proportions that tests the limits of our potential.
Buy your copy today, or try a free sample.
Praise for Keepers of the Stone :
"Keepers of the Stone is a first effort for author Clement and lucky for us there are more to come… this well-written, fast paced, intriguing… story wove fantasy with real history. In addition, the Polish history here was new to me, which gave the story real depth. Starting the story in the middle of action is always a winner in my book, and the characters of Malka and Liza were deftly handled. The book is a keeper! I'd like to see it sitting on my bookshelf—quite frankly. Kudos Sir Clement!"
– Catherine Lanigan, New York Times bestselling author.
Tags for Keepers of the Stone Book Two: Exiled
-Young adult historical epic fantasy quest
-Action & Adventure
-Magic prophecy
-American West
-New York
-fantasy historical
-Demons & Shapeshifters
-Europe