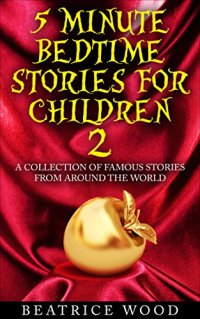 Bargain on 14th - 18th Dec 19



or borrow free on Kindle Unlimited.
No reviews yet.
Discover the Wonderful Fairy Tales & Bedtime Stories Collections of Beatrice Wood for Busy Parents
Today only, get this book for just $2.99. Regularly priced at $4.99. Read on your PC, Mac, smart phone, tablet or Kindle device.
Beatrice Wood proudly presents her personal collections of fairy tales and famous Stories From Around the World, Book 1 and Book 2
*** FOR AGES 6-12 ***
Have you ever started reading a bedtime story to your son or daughter, only to discover ten minutes later that the end is nowhere near?
You are about to discover the definitive Fairy Tales & Bedtime Stories Collections of Beatrice Wood for busy parents! Shortened fairy tales, folk tales and famous stories (of the original versions), perfect for jam-packed days!
Each of these stories is an ideal length for reading aloud in about 5-7 minutes for bedtime, storytime, or anytime! An ideal solution for the busy mom (or dad) who is in need of a creative AND STRESS-FREE way to spend quality time with their children.
What You Will Find in this Collection
Having raised three children and spent countless evenings and weekends with her 5 grandchildren and their neighboring little friends, Beatrice Wood knows exactly what it means to be a busy parent. She advises parents that no matter how busy they are at work or at home, they ought to spend a little quality time with their children every day. Reading a story to them even for 5 minutes is a wonderful way to do this.
In this Book Series you will find her personal collection of famous fairy tales and stories from around the world, voted by her children and grandchildren to be the family's most favorite. Fairy tales from the greatest storytellers that have ever been as well as folk tales and lesser-known stories from unknown authors.
These fabulously retold family favorites were shortened and edited by Beatrice Wood.

Enjoy 45 pages of masterful storytelling in Book 1 and 45 more pages in Book 2!:
Why to buy this Book
All stories in this collection were carefully selected, shortened and edited by Beatrice Wood.

All stories are:

Shortened to 5-7 minutes in length, for the busy mom or dad's convenience.Formatted for ease of use on your Kindle. Appropriate for ages from 6 to 12 and also very pleasantly readable for grownups!Written in a simple and attractive style, but still containing words that will encourage your children's vocabulary development.

Download Your Copy Today!
CHOOSE A BOOK!
Book 2- Contents
THE FISH AND THE RING

RIQUET TUFT (THE UGLY PRINCE)

RUMPELSTILZCHEN

THE BREMEN TOWN MUSICIANS

THE FROG PRINCE

THE ROSE TREE

THE PRINCESS AND THE PEA

THE GYPSY QUEEN
Book 1-Contents (Attention: This is the 1nd book of the series, search for it on the link below)

http://www.amazon.com/dp/B00W22Q7WO
HOW THE OLD WOMAN GOT HER WISH

THREE SILLIES

THE MILLER, HIS SON AND THEIR DONKEY

ARMADILLO'S SONG

JACK HANNAFORD

TING AND TEKKI

LAZY JACK

THE STORY WITHOUT AN END

THE EMPEROR'S NEW CLOTHES

WHAT WE PLANT, WE WILL EAT
Tags: short stories for kids, bedtime stories for children, bedtime stories for kids, stories for children, short stories for children, fairytales for kids, children's books, kids books, fairy tales, fairytales, fairytales for kids free, fairy tales retold, fairy tales for children, classic fairy tales, short fairy tales, fairy tales kindle, children's book, children books, childrens book, kids book,folk tales, folk tales for children,kids books,children's book,children's books, childrens book, childrens books, bedtime stories, childrens books by age 5-8,9-12, bedtime reading, Fairy Tales & Folk tales Collections, Bedtime Stories for Kids 3-8, 6-8,9-12 classics for kids, fairy tales for kids,classic fairy tales.