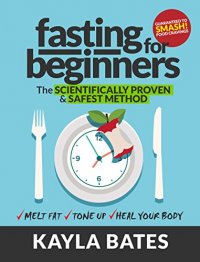 Free on 2nd - 4th Oct 18



or borrow free on Kindle Unlimited.
No reviews yet.
Learn How Fasting Can Improve Your Health, Melt Away Extra Fat & Allow You to STOP Using ALL Medication!
What if you could use the old and effective technique of fasting (think back to our caveman days where it was normal to go hours and days without food) to improve your health and heal your body?
Imagine having the body of your dreams and feeling better than you have ever felt before (all from ONE simple change in your life)!
Multi-time best selling health & fitness author and influencer, Kayla Bates, shares with you one of the most effective ways you can transform your body and turn your life around (health, happiness, and longevity). With over a million readers and subscribers to her blog, books, and video channel, Kayla has put together everything you need to know as a beginner who wants to learn what fasting is and how you can slowly begin to add it into your life. She has included her most practical action plans that her fans love, and best of all is that these steps have been proven over and over again to work for her readers!
Do you want to STOP feeling tired, lethargic, and bloated every day?
Do you wish you STOP relying on medications and magic pills in the hope that they will make you feel better?
Or if the idea of getting fit and achieving the body of your dreams by doing only ONE small thing every day sounds appealing to you…
THEN THIS BOOK IS FOR YOU!
In this book, you will get:
A full overview about fasting; what it is, why it's so effective, and how you can apply it in your life as soon as today!
An entire list of the most common mistakes when it comes to fasting, and how you can avoid these and overcome the typical challenges for beginners.
A comprehensive step-by-step action plan and instructions that are practical, so as soon as you read you can begin to try things in your life.
Kayla's personal email address for unlimited customer support if you have any questions.
And much, much more…
FREE BONUS INCLUDED: If you download this book, you will receive a FREE DOWNLOAD of Kayla Bates' best selling book, "The Ultimate Guide to Healthy Eating & Losing Weight (Without Starving Yourself)!"
Well, what are you waiting for? Grab your copy today by clicking the BUY NOW button at the top of this page!
Tags: fasting for beginners, fasting for weight loss, fasting for health, intermittent fasting for women, intermittent fasting for beginners, intermittent fasting for weight loss, intermittent fasting diet