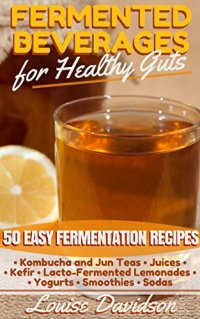 Welcome to the wonderful world of fermented drinks! If you?re looking for a fun and delicious way to improve your health, you?ve come to the right place!
Download FREE with Kindle Unlimited!
In this book, you will find In these pages, you will discover:
?What home fermentation works and how to brew different types of fermented beverages at home.
?The health benefits of fermented beverages
?How to get started making your own delicious fermented drinks with a step by step approach.
?More than 50 recipes for creating ten different types of fermented beverages including:
?Fermentation Vegetable Juices
?Kombucha Teas
?Jun Teas
?Water Kefir and Milk Kefir recipes
?Lacto-Fermented Lemonades
?Yougurt and Smoothie recipes
?Fermented Sodas
The sections in this book are organized by type of beverage. Each section begins with how-to instructions on brewing the drink and then provides recipes for flavoring the beverage to ensure a tasty experience.
Fermentation can be frustrating. It can be time-consuming, confusing, but more than anything, it is absolutely magnificent once you get the hang of it! Not only is the process of fermenting drinks (and food!) fun, but it also teaches you a great deal about basic chemistry and human health?and it?s utterly delicious.
Fermenting drinks do not need to be expensive! In fact, it is very cost-effective to brew all of these beverages at home.
Read on your favorite devices such as Kindle, iPhone, iPad, Android cellular phone, tablet, laptop, or computer with Amazon's free reading Kindle App.
Scroll back up and click the BUY NOW button at the top right side of this page for an immediate download!