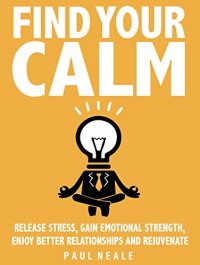 You're about to discover The Revolutionary Program what might be the fastest and most effective system that can help anyone to calm their mind, relieve stress, worry and depression almost instantly – ever developed:

Have you ever found yourself lying in bed at night but you couldn't sleep feeling overwhelmed by your thoughts? Do you struggle with anxiety about your daily tasks? Or do you want to stop worrying about life?
If so, you're not alone.
Many people resort to drastic things such as intense therapy or medication to try to control their thoughts, mind, and live a better life… luckily, you don't need medication to live a life of happiness, abundance and have freedom from stress, fear, and Anxiety.
This program is packed with simple strategies that have never been seen anyone else. The techniques in "Find Your Calm" is simple and effective. They can be used together in sequence for a complete meditation. And, they can be used individually throughout the day.
Since I have benefited so much from these teqniques , I decided that I had to share this information with as many people as possible. So I wrote the information down and created my new book "Find Your Calm".
Here are just a few of the problems' that will never bother you again: IMAGINE…
Feeling down, depressed, or hopeless
Having little interest or pleasure in doing things
Feeling bad about yourself
Trouble falling asleep, staying asleep, or sleeping too much
Feeling nervous, anxious, or "on edge"
Constant worrying throughout the day
Feeling nervous or anxious around other people
Panic attacks and OCD (forms of anxiety)
Trouble relaxing, lack of energy, irritability
Here's a small sample of what you'll learn:
Learn how a stress response affects the mind and the body.

How to retrain your mind to eliminate negative thoughts and fears.
How to let go of worrying over past or future events.

Live in the "Here and Now" – Learn how to live in the present moment.
Silent Witnessing – Learn how observing your thoughts can retrain your mind.

Positive Affirmations – Learn how to benefit from positive affirmations.
Subconscious Mind – Learn about the power of the your subconscious mind and how to reprogram or retrain it.
And so much more
If you want "peace of mind" every day and feel complete "freedom" from negative thoughts and feeling happy, optimistic, and peaceful every day. then this programme is for you.
You have my personal guarantee that you'll start seeing a difference or I will happily refund your money.
Click Buy Now to lock your discounted price for a limited time only