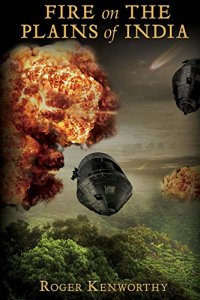 Also Available as:
Print Edition

In this alternative history fiction thriller, Volume 3 in the Nathanial Kenworthy adventure series, Nathanial ends up in ancient India and witnesses first hand an atomic war between two brothers, Bhuvanesh and Mahajan. While this duel is reminiscent of the deadly conflict in Rome between Romulus and Remus or the biblical rivalry between Cain and Abel, nevertheless, the outcome can wipe-out the lives of millions of people and not just a single soul.
The suspense builds as romance for the bygone era develops, and our timetraveler is tittering between joining his past and leaving his present when he is unexpectedly abducted by the cruel Mahajan. As a psychological battle takes place between the two, the bodies begin to pile up as the Indian plains turn red from the blood of the countless warriors killed in battle.
As the opposing military machines battle each other for supremacy, Nathanial is no longer an asset to his captors and he is prepared to meet the benevolent gods. As he is about to meet his end, good fortune smiles down upon him from an unexpected source. While his future is alive, death from the skies shakes the countryside, the towns, and the villages… and the blood of innocent men, women and children baptizes the streets, rivers and valleys of this mystical land.