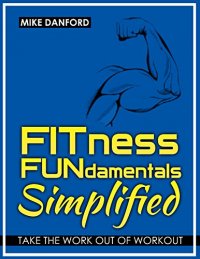 Free on 26th Feb 15 - 2nd Mar 15


No reviews yet.
Get Ready to Start Making Health and Fitness Both Easy and Fun!
Read on your PC, Mac, smart phone, tablet or Kindle device.
Forget the old concept of sticking to meal plans and over-complicating fitness. Whether you desire eating what you want, putting the fun back in fitness, or simplifying your healthy lifestyle, FITness FUNdamentals Simplified is the answer.
No more tips and tricks that don't get you results. Just pure fundamentals that are guaranteed to help you achieve your health and fitness goals.
FITness FUNdamentals Simplified reveals Mike Danford's simple approach to living healthier for a lifetime. His fundamentals are delivered in such a way that makes readers want to do what Danford says.
Danford debunks all the hype of restriction in nutrition and shows you how to simplify your approach to fitness. He takes the work out of workout by focusing on big wins for big results. All while minimizing your need to sacrifice.
His method is smooth with ideas that are commonly overlooked.
Top 5 Takeaways
1) How to lose fat and keep it off, for life!
2) By doing less you can actually make your fitness goals more sustainable. This is the absolute core to personal health and fitness.
3) How you can eat "cheat" foods in social settings such as from your favorite restaurant. This will blow your friends' minds. They will wonder how you "cheat" every time they are around and still stay healthy, guaranteed!
4) The importance and power of knowing what your favorite foods and exercises are. This will enable you to enjoy your favorite foods and have more fun while exercising.
5) By focusing on the big wins you will notice bigger results, especially in the long-term. No more shiny tips and tricks that really don't make any differences!
And much, much more!
Download your copy today!
If you share Mike's desire to get fit and stay fit, then you won't want to put FITness FUNdamentals Simplified down.
tags: Nutrition for Dummies, Exercise Workout, Exercise and Fitness, Exercise Diet, Exercise, Nutrition, Simple Fitness, Easy Fitness.