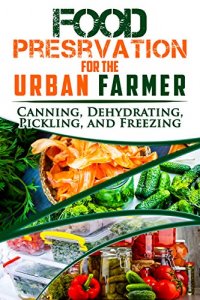 Free on 11th - 15th Sep 17



or borrow free on Kindle Unlimited.
No reviews yet.
Learn how to preserve your food from your garden and grocery store
Including instructions, recipes, and bonus reference sheet.
Food begins to spoil the moment it is harvested. Each culture learned to preserve their local food supply using the same basic methods. In the early days of preservation, they used their environments to either freeze or dry their foods depending on the climate. As people advanced, preservation techniques such as pickling and canning became commonplace.
Learn for yourself how to preserve your own delicious recipes in a variety of ways; the same way that people have been doing for hundreds if not thousands of years.
Chapter 1 Canning
Chapter 2 Pickling
Chapter 3 Jams and Jellies
Chapter 4 Freezing
Chapter 5 Drying
Recipes + Bonus Reference Sheet
This book is brought to you by Modern Self-Reliance, a company committed to providing the very best homesteading and preparedness information for the modern family.
You can check us out at: http://modernself-reliance.com/