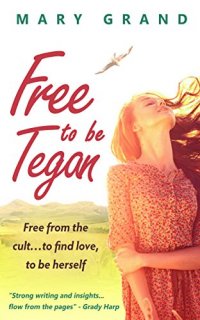 Free on 3rd Nov 20



or borrow free on Kindle Unlimited.
No reviews yet.
Also Available as:
Print Edition

Tegan, aged twenty seven, is cast out of the cult, rejected by her family and from the only life she has known. She is vulnerable and naive but she also has courage and the will to survive. She travels to Wales, to previously unknown relations in the wild Cambrian Mountains.

This is the uplifting story of her journey from life in a cult to find herself and flourish in a world she has been taught to fear and abhor.

Guilt and shadows from her past haunt her in flashbacks, panic attacks and a fear of the dark. However she also finds a world full of colour, love and happiness she has never known before. The wild beauty of the hills, the people she meets and the secrets slowly revealed by the cottage all provide an intriguing backdrop to Tegan's drama.

The novel is set in spring, a story of hope, new growth, of the discovery of self and the joy of living.
Enjoyed Maeve Binchy and Diane Chamberlain? You'll love Free to Be Tegan
"Strong writing, insights, and secrets most of us do not understand flow form the pages of this readable novel."- Grady Harp, Hall of Fame, Top 100 reviewer, Vine Voice
"This debut novel is a triumph."
"Loved the book …. I was gripped and couldn't put it down."
"It was very thought provoking and emotional with lots of plot twists to keep you on your toes. I highly recommend this book."
(90 Amazon.co.uk reviews average 4.7)